So I went to the V&A museum last week with my Mother. This is the third time this year that I have been, and I am sure that there will be plenty more inspiration posts based on exhibits and collections on display there. For this one I am going to concentrate on the collection that I have been waiting for since January – the fashion collection.
Since I started getting interested in embroidery I have wanted to go back to the fashion collection at the V&A because I remembered a childhood visit there when I first saw some of the most amazing outfits and pieces of clothing that I have ever seen and I wanted to see how embroidery fitted into the story of fashion.
Well, the answer seems to be that artistic embellishment of the most beautiful design and style has been a part of fashion for hundreds, maybe thousands of years, and there are certain classic aesthetics that, over time, just will not go away. There is a particular style that interests me at the moment. One example of this kind of work is the background of this blog, which is from an 18th century waistcoat in the V&A collections – it is this botanical, floral, look, elegantly done in repeating patterns and rich colours on a pale background.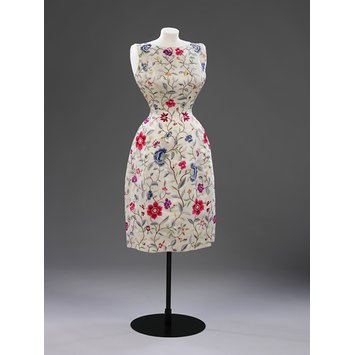 Evening dress by Balenciaga from the V&A Collection vam.ac.uk
The exhibit that interested me most this time was the dress pictured here. Made by Balenciaga in the 1950s, the embellishment could be 200 or more years older.
The distinctively 50s shape is complimented and enhanced by the timeless embroidery. It just seemed to show me that great craftsmanship will look amazing in any era. Great work is always great, and therefore my interest in hand made fashion with great, beautiful embellishment is valid, there is a place for it everywhere.
I know I'm a long way off from being able to produce anything approaching this, but that's why it's called inspiration. I would love to be able to decorate anything in such a complimentary way as this.
God Bless,
Naomi